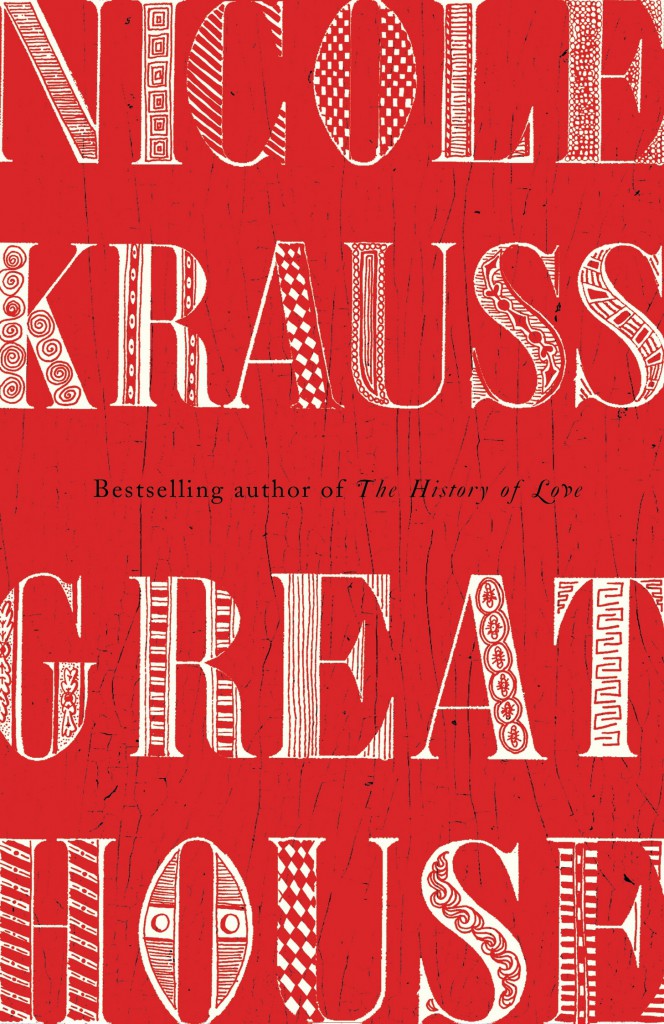 The first book by Nicole Krauss that I read was ,,History of Love". I devoured it in early 2007, in a time when I had the most achingly acute broken heart ever and I found her reading both soothing and intricately provocative.
The past weekend, I bought her newest novel, called ,,Great House" and I have fallen head over heels in love with her writing all over again. I am not broken hearted anymore, but some guilty pleasures  – chocolate, champagne and fine writing – are just too great to ever let go of.
Here are some of my favorite quotes to entice you:
Yes, I believed – perhaps even still believe – that the writer should not be cramped by the possible consequences of her work. She has no duty to earthly accuracy or verisimilitude. She is not an accountant; nor is she required to be something as ridiculous and misguided as a moral compass. In her work the writer is free of laws. But in her life, Your Honor, she is not free…

*
Rather than expansion, I've always felt a diminishment of my own pleasure when I've invited someone else to take part in it, a rupture in the intimacy I felt with the work, an invasion of privacy. It is worst when someone picks up a copy of a book I've just been enthralled by and begins casually to thumb through the first pages. Simply reading at all in the presence of another did not come naturally to me, and I suppose I never really got used to it, even after years of being married.
*
The anxiety was overwhelming – something like the feeling of having been left behind on a dark shore while everyone and everything I'd ever known in my life had departed on a great, illuminated ship.
*
For the first time it occurred to me that I might have misunderstood Lotte. I mean utterly and grossly misunderstood her. All these years that I'd thought she'd needed regularity, routine, a life uninterrupted by anything out of the ordinary, maybe the opposite had actually been true. Maybe she had been longing the whole time for something to come along and smash all that carefully maintained order to pieces, a train through the bedroom wall or a piano falling out of the sky, and the more I did to protect her from the unexpected, the more stifled she felt, the wider her longing, until it became unbearable.
*
I continued to sit there hour after hour watching the unrelenting rain slosh against the glass, thinking of our life together, Lotte's and mine, how everything in it was designed to give a sense of permanence (…) though in truth it was all just an illusion, pretending to be one thing when really there are millions upon millions of atoms coming and going, some arriving while others are leaving us forever, as if each of us were only a great train station, only not even that since at least in a train station the stones and the tracks and the glas roof stay still while everything else rushes through it, no, it was worse than that, more like a giant empty field where every day a circus erected and dismantled itself, the whole thing from top to bottom, but never the same circus, so what hope did we really have of ever making sense of ourselves, let alone one another?
*
A moment passed. I felt something one from time to time experiences with those one is intimate with, when the distance that all the while has been folded up like a Chinese paper toy suddenly springs open between you.
*
I knew that to find and to feel Yoav again would be terribly painful, because of what had become of him, and because of what I knew he could ignite in me, a vitality that was excruciating because like a flare it lit up the emptiness inside me and exposed what I always secretly knew about myself: how much time I'd spent being only partly alive, and how easily I'd accepted a lesser life.
*
These valuable things produced in us a feeling of intimidation. We knew that no matter how far we got in life, we would never really be meant for such fineness, that the few expensive antiques we did have fallen to us from a higher life and now condescended to live among us. (…) When I first began to spend time in Belsize Park it made me queasy to see how carelessly Yoav and Leah treated the furniture that passed through their house, which constituted their father's and their own, livelihood. But no matter how careless they were, they seemed never to leave behind a mark or trace. At first I took this to be the grace of those brought up to consider such furniture their natural habitat, but once I knew Yoav and Leah better I began to think of their talent, if one can call it that, as something borrowed from ghosts.
*
You had always been so gifted at giving up, of letting go, of making yourself lighter and lighter, less and less, one friend at a time, one father less, one wife less, and now you have even given up being a judge, there is almost nothing anymore to tether you to the world, you're like a dandelion with only one or two hairs left, how easy it would be for you, with a little cough, a little sigh, to blow that last one away.
*
I only want to say that in order to survive that dark and often terrifying passage of my life I came to believe certain things about myself. I didn't grant myself magical powers or believe myself to be under the watch of some beneficent force – it was nothing so tangible as that – nor did I ever lose sight of the immutable reality of my situation. I simply came to believe that one, the factual circumstances of my life were almost accidental and didn't grow out of my own soul and two, I possessed something unique, a special strength and a depth of feeling that would allow me to withstand the hurt and injustice without being broken by it.
*
It wasn't always like this. There was a time when I imagined my life could happen in another way. It's true that early on I became used to the long hours I spent alone. I discovered that I did not need people as others did. After writing all day it took an effort to make conversation, like wading through cement, and often I would simply choose not to make it, eating at a restaurant with a book or going for long walks alone instead, unwinding the solitude of the day through the city. But loneliness, true loneliness, is impossible to accustom oneself to, and while I was still young I thought of my situation as somehow temporary, and did not stop hoping and imagining that I would meet someone and fall in love, and that he and I might share our lives, each one free and independent, and yet bound together by your love. Yes, there was a time before I closed myself to others"
*
In an instant, the child quieted. She buried her face in her mother's neck, in the smell of her mother's long lustrous hair, and her cries slowly grew dimmer and dimmer, as the conversation around the table started up again. But I hardly noticed the conversation that swelled around me, so absorbed was I by the expression I'd glimpsed the moment before the girl had buried her face in her mother's hair, which filled me with awe and also grief, and I knew then, Your Honor, that I would never be that to anyone, the one who in a single motion could rescue and bring peace.
*
I also began to paint, a hobby I'd had when I was young, but had abandoned when I realized that I lacked talent. But talent, worshipped for all that it promises when one is young, seemed at last utterly irrelevant: nothing could be promised to me now, nor did I wish for it to be.
*
I spent the morning reading Ovid. I read differently now, more painstakingly, knowing I am probably revisiting the books I love for the last time.
*
I must have stood for some time, because a man from the railway company, wearing a gold-buttoned uniform approached to ask me if I was alright. There are times when the kindness of strangers only makes matters worse, because one realizes how badly one is in need of kindness and that the only source is a stranger. But I managed to resist self-pity, thanking him, and continuing on my way, heartened by my luck at not being forced to wear a hat like his, a perky box with a shiny visor that would make the daily battle for self-dignity before the mirror immeasurably more difficult.
*
To call it a desk is to say too little. The word conjures some homely, unassuming article of work or domesticity, a selfless and practical object that is always poised to offer up its back for its owner to make use of, and , which, when not in use, occupies its allotted space with humility. Well, I told Gottlieb, you can cancel that image immediately. This desk was something else entirely: an enormous, foreboding thing that bore down on the occupants of the room it inhabited, pretending to be inanimate but, like a Venus flytrap, ready to pounce on them and digest them via one of its many little terrible drawers"
*
With great difficulty I managed to drag myself down to the hotel bar for a gin and tonic to calm myself. The only other drinkers were two old women, sisters, I think, perhaps even twins, perilously frail, their hands deformed around their glasses. Ten minutes after I'd arrived, one got up, departing so slowly she might have been performing a pantomime, leaving the other alone, until at last the second one vacated her spot just as slowly, like some demented version of the Von Trapps exiting to the tune of ,,So Long, Farewell", and as she passed me she swiveled her head and gave me a terrifying grin. I smiled back, the importance of manners, my mother always said, is inversely related to how inclined one is to use them, or, in other words, sometimes politeness is all that stands between oneself and madness
*
All my life I have arrived early only to find myself standing self-consciously on a corner, outside a door, in an empty room, but the closer I get to death the earlier I arrive, the longer I am content to wait, perhaps to give myself the false sensation that there is too much time rather than not enough.
*
It didn't happen right away, she said. We had to fill endless forms, there was a process. One day a lady in a yellow suit came to our house. I remember staring at her suit and thinking that it was like a small piece of sunshine, and she an envoy from a different climate where children thrived and were happy, and that she had arrived at our house to shine herself and see how it looked, how so much light and happiness might reflect back off our colorless walls.