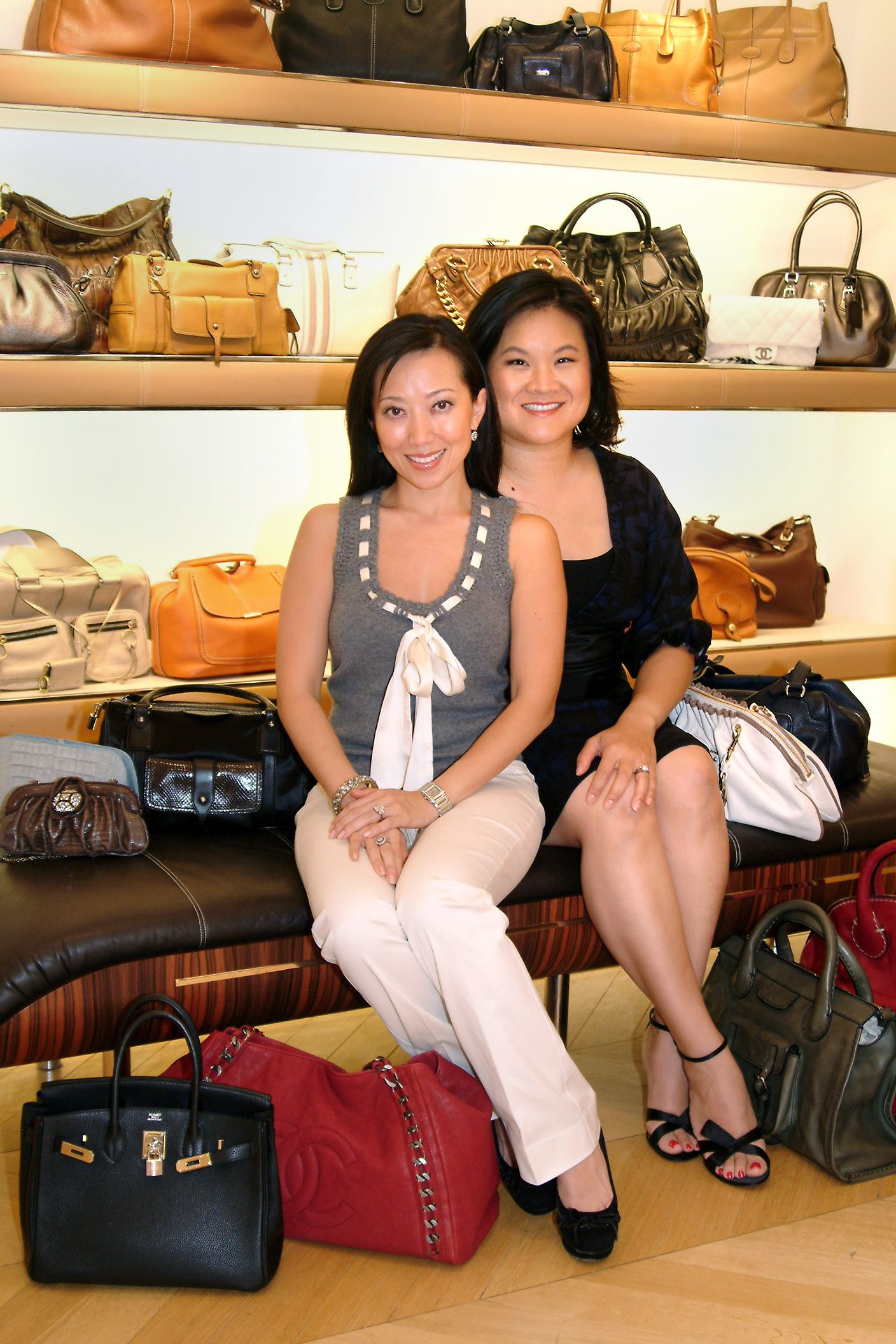 What started out as an entertaining hobby turned, for two American ladies, into a business of hundred thousand dollars and a place in the ,,fashion guru" league.
Before spending three-zero sums on bags bearing famous labels, at least one million women in this world don't prove as eager to check their wallets or credit cards as they are to check…their laptops. The Romanian lawyer Ioana Pascanu (29 years old) is one of them. She was going on a business trip abroad and felt ready, for this occasion, to ,,invest" in her first designer bag.
However, the range of available options was huge and the high prices called for a wisely-weighted decision. ,,I had my eye on a silver Versace bag, but my goal was to get something classic for my money, not just this year's IT-bag", remembers Ioana. She found all the answers she was looking for on a website that just happened to ,,dissect" exactly what she was interested in: if the respective bag was worth buying at full price, on sale or…not at all, the type of leather that best endures the test of time or the shade that would remain a classic for years to come.
All these details, describing if a certain bag is worthy or not of having us widely opening our wallets, are the very core of a successful business run by two American women. Kelly Cook (38 years old) and Tina Craig (39 years old) are lifelong friends.  Seeing them as joyful, friendly and full of life as they are, one would never guess the  source of their international stardom is a business based on straightforwardness, cruelly honest opinions and, at times, razor-sharp irony.
Being hundreds of kilometers apart from one another, Tina in Dallas and Kelly in L.A., they came up, in 2005, with the inspired idea of using the web to keep each other posted on the latest fashion acquisitions. Not merely by email, but through a blog where they would share, on a daily basis, opinions and comments on their favorite subject: bags. All in a laid back, upbeat tone, just as if they were chit-chatting over a cup of coffee. With an insignificantly small investment of 20 dollars for the domain and 10 dollars for monthly maintenance, they started writing, with wittiness and humor, about their most recent ,,love affairs" with bags.
To their sheer surprise, in a short amount of time Bag Snob had reached a few hundred thousand visitors and had gained its first 400 dollars out of advertising. ,,It wasn't that much to start with, but we were paying 5 dollars/month each, so it felt like the return on investment was 2.000%", remembers Kelly Cook.
It proved there was much more where the first 400 dollars had come from.  Since 2005, around 1.200.000 visitors per year have read, commented and got inspired on Bag Snob before doing any major spending on designer bags. The monthly costs are now 230 dollars, but the advertising revenues have gone through the roof. Cook and Craig's ,,bag expertise" is now worth over 200.000 dollars per year. As their revenues have increased by 40% every year, the two are eagerly awaiting their ,,first million", a goal to which they are now pledging their entire process of business diversification.
Their company, Snob Global Media, has extended the Snob brand upon other three websites: Beauty Snob, Tot Snob and Couture Snob and, starting last year, Tina and Kelly host an online show called Snob TV, presenting the lives and careers of famous designers.  As the popularity of their show will increase, so will their profits and, more importantly, their global fame.
A Queue of 80.000 People

Regardless if we're talking about 50-dollar bags or true ,,collector's items" with price tags that start at 50.000 dollars, ,,Tina and Kelly", as the two of them are known in the blogging world, have gained an indisputable influence in setting bag-trends. A bag that gets positive reviews is more likely to sell out, while another one, from a brand that is put ,,back against the wall" (what matters is the design and quality, not if the brand is Dolce&Gabbana or Armani) is, in most cases, given the cold shoulder by the over  100.000 visitors that tune in, every month, to Bagsnob.com.
In the summer of 2008, a limited-edition alligator bag worth 30.000 dollars, from the Italian brand Tod's, was bought by one of the readers of the blog, who – as she later revealed online – was convinced by Tina and Kelly's well-grounded review. A similar case is the one of Oscar de la Renta, whose bag, Goya, with a staggering price of 4.750 dollars, became the object of desire for thousands of women after Tina and Kelly expressed their own authentic admiration.
But the supreme argument bolstering the incredible power that Tina and Kelly have come to have over the general public remains the Anya Hindmarch episode, in 2007. The British designer had come up with an ,,eco" white canvas bag called ,,I'm Not a Plastic Bag" . The favorable comments that Tina and Kelly made with regard to the bag turned it into nothing short of a global phenomenon. Suffice it to say that, in London, 80.000 people queued, in one single day, to buy the ,,eco" bag. ,,From all that, we only gained the privilege of buying two bags without waiting in line", says Kelly.
Her partner, Tina Craig, agrees, adding that, just like back when they began the blog, they only speak highly of bags they genuinely like and would actually consider wearing . ,,We totally disagree with the idea of advertorials", says Craig. The statements the two of them make shelter no hypocrisy whatsoever, especially taking into account that both have been, for some time, on Louis Vuitton's ,,black list" after making negative comments regarding the overuse of the LV logo. ,,The emails that we get from brands we criticize can get pretty ugly", admits Cook, remembering situations when they are assigned the worst seats at fashion events or don't even make it to the invites list. Nevertheless, such maneuvers don't discourage them in any way.
Quite the contrary, they pride themselves with knowing that some designers – which they diplomatically refuse to name – have improved, over time, those aspects that Bag Snob had called them out on.
Advertising Heaven
Thanks to the average visitor profile, Bag Snob has become extremely attractive for advertisers. The audience of the site is made of people aged between 25 and 38, highly-educated, with over 100.000 dollars/year in income and single. In the language of advertisers, Bag Snob visitors are dynamic people and, most importantly, spenders.
Not surprisingly, the advertising rates for Bag Snob have multiplied over the past three years, especially taking into account Tina and Kelly's refusal of giving up editorial space in favor of advertising. The price of a banner can reach 10.000 dollars per month and one of the things that work as a magnet for advertisers is the extremely high click-rate. As the average click rate is under 1%(meaning that less than one person out of 100 clicks on an online advertisement), Bag Snob can offer even amazing  6% click rates. Such outstanding results have attracted top advertisement customers like Net-a-Porter, Glam or Vivre.
A very ingenious business idea is represented by the so-called ,,monthly giveaways". Every month, the visitors of the blog can win a very expensive bag, labeled Oscar de la Renta, Maia N. or even Chanel. The most expensive giveaways have so far been an alligator-skin Maia N., with a price tag of 7.500 and an Oscar de la Renta of almost 5.000 dollars.
Some brands voluntarily offer to provide the monthly giveaway, while others are directly approached by Tina and Kelly. Nevertheless, no giveaway can go under 2.000 dollars. ,,We only want the best quality for our readers, so we don't accept anything cheap" explains Craig, highlighting that the web-exposure of the brand that provides the giveaway is worth no less than 2.000 dollars.
Shopping for a Living
Tina and Kelly could successfully star in any American sitcom that focuses on friendship. Even online, they seem to complete each other's ideas and almost finish each other's sentences at times. Their friendship from the teenage years has remained unaltered, although they now both have careers and families. They might not exchange makeup and clothing anymore, like they probably did in college, but they wholeheartedly share their virtual child – Bag Snob – that has led them to the career which, growing up, would have surely seemed a beautiful dream.
,,We shop for a living, how cool is that?", laughs Kelly Cook, almost sounding like a full-fledged teenager. The statement is, nevertheless, extremely serious. The two own the vast majority of the bags they review and are both wise and picky collectors. No wonder that, even in times of economic turmoil, Cook and Craig know just the fail-safe long term investment: ,,exotics".
Graduates of Finance (Tina) and Business (Kelly), they advocate the investments in crocodile or ostrich Hermes bags with carefully selected arguments that could even draw the attention of the most skeptical investor. ,,A Hermes bag in classic, neutral shades, made of high-quality crocodile leather can be bought today and sold, in 10 or 20 years time, at twice the price", says Cook, with the conviction of an expert in luxury goods. Nonetheless, an exotic Hermes can cost even 80.000 dollars, which makes a pricey, albeit secure investment.
Before Bag Snob, the two have had eclectic careers, ranging from MTV Asia VJ-ing or jewelry-design to Fashion PR or international license entrepreneurship. However, everything ended up fitting into place in a field where they can write and comment for a public that fervently reads every word that comes out of their keyboards. A public which they affectionately call the ,,snob" public.
,,A <<snob>> is a person who rightfully considers that any bag, be it a 50 dollars or a 2.000 dollars bag, must have the best possible design and quality in its price range", summarizes Tina. Such an aspiration can also explain the responsibility and seriousness with which the two present themselves before the people who read their opinions. The same responsibility that they extend in relation with the society in general, participating, alongside designers who have become their friends, in programs aiming at helping Asian orphanages or women faced with abuse.
Talking about their status in the tricky world of fashion, Cook and Craig consider themselves, beyond any shadow of a doubt, legitimate editorialists and seek the same respect given to any other journalist in the fashion field. The profitability of Bag Snob, nevertheless, makes them successful entrepreneurs as well, especially since the challenges they face with their business are in no way inferior to the ones of other successful business people. Or, dare I say, quite the contrary, if we take into account that Tina Craig and Kelly Cook are not only shopping for a living, but have also managed to build two successful careers out of it.