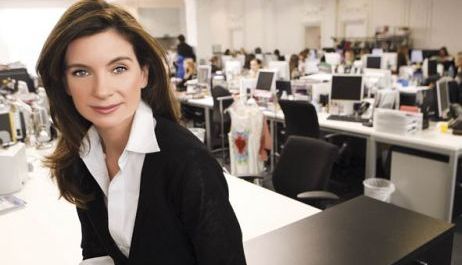 Natalie Massenet can sell a 11.000 euro dress in a few  hours and has talked fashion designers into creating exclusive collections. Meet the lady who took luxury where nobody had ever dared to: on the world wide web.
Two huge monitors on a metallic pillar spread like branches of a high-tech tree, in the middle of the West London headquarters of Net-a-Porter and TheOutnet. On the first monitor, figures are running like the countdown of a racket-launch, only the values are rapidly growing, from one minute to the other. On the second monitor, representing the world map, lights twinkle in distant corners of the Globe. In no more than a minute, Singapore, Russia, Spain and once again Russia blink one after the other. ,,Look, someone in Russia just ordered a Judith Leiber clutch", explains Claire, Natalie Massenet's Senior PR Executive. The two monitors can create dependency, she warns me with a smile: ,,It's hard to move away, you want to see who buys what and where".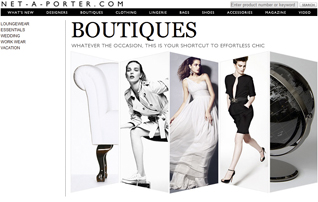 The figures on the first monitor, running like the speedometer of a Ferrari, represent the (classified) value of daily sales, in real time, for the world's most famous luxury online stores: Net-a-Porter and TheOutnet. The first website is specialized in selling the latest creations of world's first 300 designers, while the second one is a virtual outlet, with discounted pieces of high fashion.
No wonder the monitors can give you dependency! And to think that it's Friday, not such a glamorous day for sales if you listen to Claire. Their clients love to shop on the first days of the week, so that the products are already delivered by Friday, in the elegant Net-a-Porter black boxes.
Before entering the glass conference room where Natalie Massenet is waiting for me, Claire warns me, discreetly, that ,,Mrs. Massenet is down with a cold, but she didn't want to cancel the interview". With a hot cup of tea in front of her, the entrepreneur that Western press had dubbed ,,the woman who dresses the world" is wearing a Luella green dress, with a black jacket and black boots. I can't make out Christian Louboutin's famous red soles, which makes me think that ,,Mrs.Net-A-Porter" enjoys breaking the patterns. ,,Romania is in the top 20 countries in which our e-stores are most successful", she confesses, with a smile. This was, actually, the idea behind the Net-a-Porter empire: regardless if they live in Manhattan, Bucharest or Singapore, women must have access to fashion. ,,That doesn't mean everyone must wear designer clothing, but anyone must be able to do it 24/7 if they please", she explains.
TECHNOLOGY IS BEAUTIFUL. Because the idea of ,,liberalizing" luxury fashion was an irresistible call, Natalie Massenet started her business in 2000, with four people in a Chelsea studio. Nowadays, she has over 550 employees, two warehouses (one in Long Island, USA and one in a secret location on the outskirts of London) and the offices are to be found in Whiteleys Shopping centre in West London. ,,It's one of London's oldest malls and I liked the idea of the old and the new commerce in the same place", says Natalie.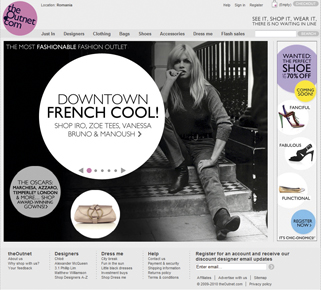 On the same hallway where the monitors reside, servers the size of a dressing room can be seen through a glass wall. ,,Natalie wanted them here, in plain sight, so that every time we walk by we remember that technology is something beautiful", explains Claire. Come Fall, the offices will be moving to a new HQ, still in construction. Looking around, expansion seems indeed the wisest move: just like a piece of clothing that a child outgrows, the Whiteleys is bursting at the seams with all the hot and prosperous business of Net-a-Porter.
HAPPY MARRIAGE. In the times when Natalie's entrepreneurial adventure began, the marriage between luxury and e-commerce seemed like… a misalliance. Who had ever thought women from 170 countries would buy dresses worth over 8.000 euros online, without trying them on or even touching them for that matter? Perfectly conscious of the fact that she must compensate this through more information, Natalie implemented an extremely detailed display system. Each piece of clothing is photographed on a living mannequin, from different angles, with the customer being able to zoom in to the smallest detail. The room in which over 62 complete outfits are photographed every day would qualify as every woman's idea of Heaven: hangers packed with Oscar de la Renta, Miu Miu or Stella McCartney, as well as hundreds of Louboutin and Givenchy shoe-boxes.
It is precisely for all the women who fantasized of such a luxury heaven but couldn't afford it that Natalie came up with a sister brand for Net-a-Porter: TheOutnet. The idea was born in the most natural way, after analyzing the two categories of Net-a-Porter clients: those who could afford to buy the newest collections, fresh from the catwalk and respectively those who logged in when sales were on. For the latter, Massenet created a special website, where designer items are sold at a discount. The first day TheOutnet went in operation, in April 2009, the sales surpassed the total first year turnover of Net-a-Porter.
The value stays confidential, but Natalie truly felt proud: ,,I realized how far the Internet had gone in ten short years". When asked about the names of the two websites, cleverly inspired from ,,pret-a-porter" and ,,outlet", Natalie bursts into laughter: ,,To think that I wanted to name Net-a-Porter ,,What's New Pussycat" in 2000. It's a good thing my lawyer taught some sense into me". As for TheOutnet, the birth of its name took place in the exact glass-walled room, out of a funny coincidence. ,,I was talking to my Marketing manager and instead of saying ,,outlet", I said ,,You know, we must really come up with a name for this outnet thing", she remembers. The two names have now made it to e-commerce history and all great designers couldn't be more pleased with the exposure their brands get on the two websites. Because 90% of Net-a-Porter's clients are business women who earn enough to afford the latest fashion but who lack the time to go shopping from store to store, since February 2010 Natalie came up with one more idea: a ,,refurbished" bridal boutique in Net-a-Porter.
If you are too busy to walk the stores looking for the perfect wedding dress or if you are simply keen on surprising your bridesmaids with some designer gowns, the entire arsenal of a wedding can be on its way to your front door through just a few clicks.
WHAT WE SET OUT TO DO. Net-a-Porter and TheOutnet proved to Natalie that she's a first class entrepreneur, showing her than anything is possible: ,,When you have the courage of asking someone ,,Hey, would you like to do this absolutely crazy thing?", they're usually going to say ,,Yes!" in a heartbeat, because they're just waiting for someone to pop the question".
This is exactly what happened when she dropped Stella McCartney or Roland Mouret the proposal of creating exclusive collections for Net-a-Porter. Her strong belief is that we can do anything we set out to do, as long as we don't set limits for ourselves: ,,Most of us create our own life-recipes: a spoonful of success, not more than two of happiness, we are almost uncomfortable with asking for more than that". And she admits, with a smile, that it's a lesson she learned when she was already in her 30s.
The fact that our aspirations are within our reach doesn't mean they can be accomplished without hard work. Natalie is convinced that ,,entrepreneurship is not for the faint-hearted" and that there is no easy way to make it into the big league: ,,If you decide that you can't climb the mountain and choose the valley instead, you'll end up walking through that valley your whole life".
THE FREEDOM OF CHANEL. If you're wondering what dreams are left to accomplish for the woman who not only climbed the mountain, but persuaded 2.5 billion women to contemplate the idea of buying 11.000 euro dresses as effortlessly as ordering a 10-euro DVD on Amazon.com, for Natalie Massenet ,,the peak" has not been reached yet. ,,One day I will sell Chanel on Net-a-Porter", she whispers secretively, with the confident smile of a schoolgirl who draws plans for the time she'll grow up. A ,,schoolgirl" with a turnover of around 90 million euros per year.
For this outstanding entrepreneur, Chanel is the peak. The only designer not to have surrendered to the irresistible call of the internet. Not just yet. Looking at Natalie Massenet, with the hot cup of tea in front of her, I have the certainty that ,,the woman who dressed the world" will someday become ,,the woman who dressed the world in Chanel". There's no other way. And that's because in this life we always do what we set out to do.