,, – Do you know what happened to the boy who got everything he ever wanted?
–  What?
–   He lived happily ever after"
(Charlie and the Chocolate Factory)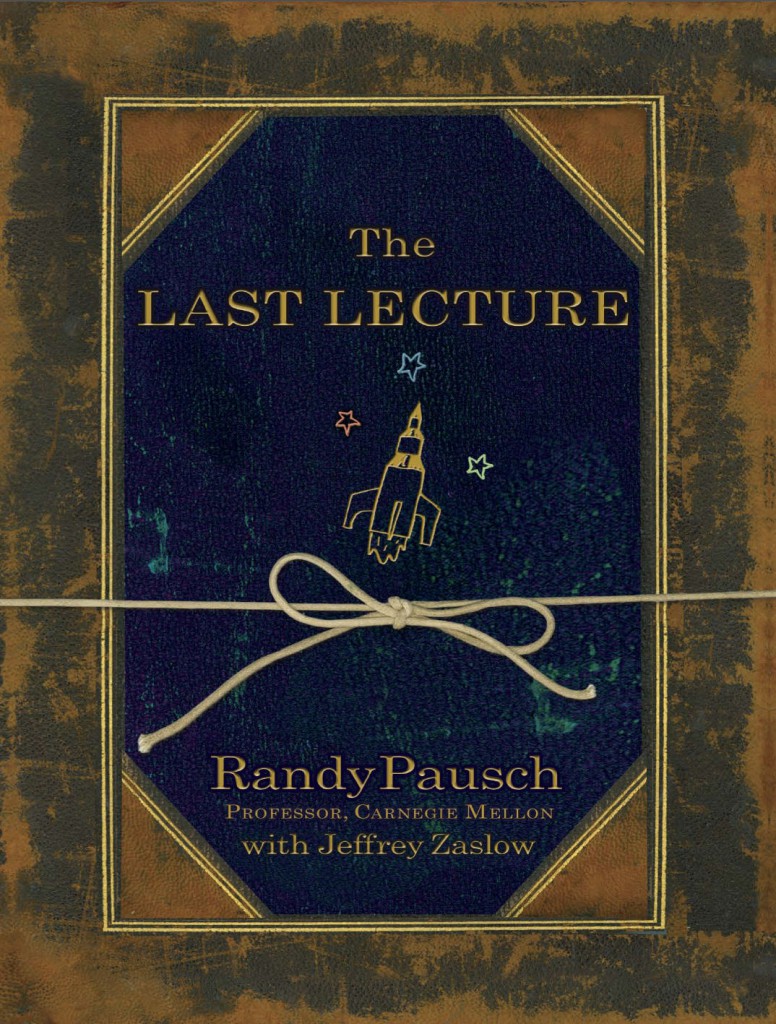 This is one of the quotes used by Randy Pausch in his series of conferences titled ,,The Last Lecture", as well as in the eponymous book.
I read ,,The Last Lecture" in 2008. I bought it in Barcelona – in its Spanish version, called ,,La ultima leccion" – during a weekend trip in which I was thirsty for some inspiring reading. The book is, to put it mildly… troubling. Its author – Randy Pausch – was a computer science professor at the Carnegie Mellon University in Pittsburgh. He died of pancreatic cancer aged 48.
A few months before passing away he wrote this book, as the conclusion of his series of lectures aimed at inspiring and empowering people to pursue their childhood dreams. What we dream as kids represents our most truthful mission on earth: this is what had become his core belief before passing away.
In ,,The Last Lecture", Randy explains his own childhood dreams – ranging from winning a lot of fluffy animals to writing an entry for the World Book Encyclopedia or working as an engineer at Disneyland – and, the most important thing, he explains how he got to achieve them all in the end and what the journey taught him.
It's a very sad, yet inspiring book, that will make you look at your life with different eyes and see it much luckier and full of perspectives than you had ever considered it to be.
Lessons I've learned from Randy Pausch:
1. Brick walls are here for a reason: to let us prove how badly we want things. The walls are there to stop the people who don't want things bad enough. The OTHER people. And yes, some brick walls are made of flesh.
2. Don't take it so hard when people are criticizing you: when nobody's telling you anything, it means they already gave up on you.
3. Experience is what you get when you didn't get what you wanted.
4. It's cool to meet your childhood hero, but it's even cooler to have him come to see the cool stuff YOU have made
5. Wait long enough and people will most always impress you. If you're disappointed at someone, just hold on. Maybe you haven't given them enough time.
If you have 1h and a quarter to spare, I'd advise you to watch the video below. Pausch was an extraordinarily gifted speaker and I guarantee you won't get bored. Watching this two years after reading the book (and, I admit, having totally forgotten about it) made me review my own childhood dreams.
To provoke you to explore your own, here are my Top 10 childhood dreams, all crafted between the age of 5 and the age of 10: the ideal age-span for building big dreams, because nothing feels too far fetched nor full-blown impossible. Once you get the ,,People will think this is ridiculous" roadblock out of the way, everything will work much smoother. You can take my word for it…
1. To become a journalist and write for several famous magazines.
I'm writing for Forbes and Cosmopolitan right now and…who knows what other wonderful things the future can bring?
2. To marry a guy that resembles Marc Wellington from ,,Sandy Belle".
No Marc in sight for now, but good things come to those who wait…
3. To write bestselling children's books.
Right now I'm working on my first children's book, which I started when I was 8 years old and found again a year ago.
4. To have all my favorite magazines delivered to my doorstep, so that I wouldn't ever miss an issue (a subscription to a magazine felt like the most wonderful thing in the world).
I have subscriptions to The Economist, Time, O Magazine, Vanity Fair, Vogue UK, Cosmopolitan UK and I buy every issue of every local glossy or business magazine. If I miss one, I can get a panic attack. Just kidding. Sort of.
5. To spend a week in the castle of the Guldenburgs  (,,Das Erbe der Guldenburgs" was my favorite TV-show)
I didn't come round to it so far but I plan on spending a weekend there this summer. I've identified the castle a few years ago: it's located near Munchen and it's called Wotersen. You can't sleep there but you can visit, which is just as nice.
6. To visit the studios of Televisa in Ciudad de Mexico.
I'm working on it.
7. To visit – in real life – as many places from my favorite movies and books that I possibly can.
I'm the uncrowned queen of ,,movie tourism". I even wrote articles about it.
8. To visit Disneyland.
I went there in 2008, in January, and it was the most exciting day of my life!
9. To meet Osvaldo Rios, the sex-symbol of my childhood.
Someday it will happen…
10. To take a stroll in Regent's Park, the place where the action in the ,,101 Dalmatians" takes place.
My college in London is called Regent's College. That's because it's located in the heart of Regent's Park. I didn't plan it like this. It just sort of happened…
What were YOUR childhood dreams?